---
---
These naturally scented and unscented 100% wool dryer balls will make your laundry smell and feel amazing in a natural way! They decrease static cling as well as fluff up clothing without using a conventional dryer sheet that is full of harmful chemicals plus they are 100% reusable and very durable! -Can reduce drying times by up to 25%. Saving you time and money with every load of laundry.
Benefits:
Naturally softens and reduces static in your clothing without the need for products with harmful chemicals.
Long lasting! Good for 1,000s of loads of laundry.
Made in the USA, supporting American farms and moms!
Wool dryer balls are so easy to use. Simply leave them in the dryer and use them with every load. 
Sizes:
-Jumbo size wool dryer balls vary in circumference from 11-13″. This is four inches bigger than a tennis ball, much larger than most others you will find and therefore work much better.
-XL ranges in circumference of 9-11." These Extra Large Dryer Balls are much bigger than the imported ones on the market (see product images).
Our wool dryer balls are available in many scents!
Outdoor Fresh (Smells identical to Downy's original fragrance. The aroma of fresh powder, light musk, and just a hint of fresh spring flowers of daffodils and tulips)
Lavender Vanilla Dream (A relaxing and tranquil scent that is also unique and memorable.  A well-rounded combination of fresh lavender, fresh vanilla beans, with orange zests and patchouli)
Honest for Men (Bergamot, lemon, silver fir, and geranium;  all sitting on intoxicating notes of woods, leather, and musk)
Torrential Rains (Down-to-earth freshness that begins with top notes of bergamot, clementine, and grapefruit; followed by middle notes of jasmine and rose; well-rounded with base notes of patchouli, sandalwood, and oakmoss.)
Tropical Paradise (A tropical delight that combines sweet coconut and juicy island fruits with exotic, and delightfully fragrant native flora of tiare and plumeria flowers.)
Lavender Vanilla Dream Essential Oil (A calming blend of all natural essential oils Lavender and Vanilla)
The scent will fade over time and rescenting kits are available or you can send them to me to be rescented.
---
Customer Reviews
4.8 Based on 18 Reviews
Write a Review Ask a Question
09/29/2021
Alaina M.

United States
06/10/2021
Sally H.

United States
Great stuff
I ordered natural laundry powder lavender vanilla dream. It's the only laundry soap I use. It gets my clothes clean and it smells great! I also ordered wool dryer balls, I had some and wanted more. I really appreciate the way they work. My clothes dry in less time, and no static.
04/22/2021
Carey

United States
Awesome, Soft, Fresh, Smell inviting
I have ordered altogether over a span of 2yrs I've gotten about 40 wool dryer balls from size XL to Jumbo. I've ordered for my household as well as my man. Since his birthday is this coming weekend wanted to get him a few more dryer balls and new linen being that he's 6ft 6in and I'm only 5ft 3 doing his laundry takes me a little longer to finish. Lol but I love him just the same wouldn't have it no other way. Saves a lot on no longer needing to buying dryer sheets, fabric softener and cuts drying time. Also can use 1000 times or more on laundry. I still throw in the washer scent beads. Love that my clothes and linen are soooo soft and smell great. I'm so far the only person that uses wool dryer balls at the neighborhood laundrymat. I'm always asked "What are those big white balls you put in the dryer?" I always reply Wool Dryer Balls. And they notice the scent and compliment oh your clothes smell great coming out the dryer. I have a couple more on the way. Trying to convince my daughter to use wool dryer balls. Check out the picture.Thanks so Much Maplehill! Maybe one day I could get a surprise of free product as a . Keep up the Great work and product Chris & Rebecca Rowan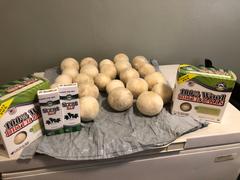 12/10/2020
Chris B.

United States
Smells fabulous
I'd definitely buy again from this company. They are attentive to detail and in keeping you informed as to the status of your order. They make and ship in USA and are quick and efficient.
12/05/2020
Lucy M.

United States
Love these. They work
I love these dryer balls I don't have to use fabric softener and my sheets and towels come out of the dryer soft and static free. They last forever. This was my 2nd purchase. I just wanted a few more and one of the ones I had disappeared. I expect to pass to the grandkids in my will.